ADVENTURE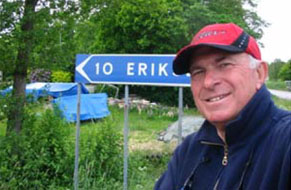 NORTH SEA CYCLE ROUTE
5.000 km in 50 days with a recumbent bike
"My name is Erik Bleeker and I am 60 years old, lost weight 14 kg, length 1,85mtr. Ever since feeling much healthier and stronger...
When I read on the internet that the North Sea Cycle Route was opened in 2001, my cycle fire was lightened.
It is the world's longest signed international cycle route encircles the North Sea, passing through no fewer than 7 countries: the Netherlands, Germany, Denmark, Sweden, Norway, Scotland and England. From Harwich and Hook van Holland in the south to Bergen and the Shetland Islands in the north.
To make this extreme long cycling route (6000 km), with heavy climes, up to 20% in Norway (also downhill...) and many times dangerous, because there where no separate cycle paths along auto routes, it is the ultimate cycling adventure challenge for me."